H6 battery or better known as group 48 battery is popular among the BCI battery group size. Perhaps, the group size 48 battery is the most used matter in many vehicles ranging various brands and models. No wonder this happens to be one of the best 48 group battery for the European cars available out in the market. Discussing the features, group 48 batteries capacity ranges between 60ah and 70 ah; provides 680-775 CCA. Furthermore, the Reserve Capacity comes around 100-135RC range depending on the battery type. Physical dimensions measure 10.90 x 6.90 x 7.50 inches roughly.
ACDelco 48AGM Automotive Group size 48 H6 Battery: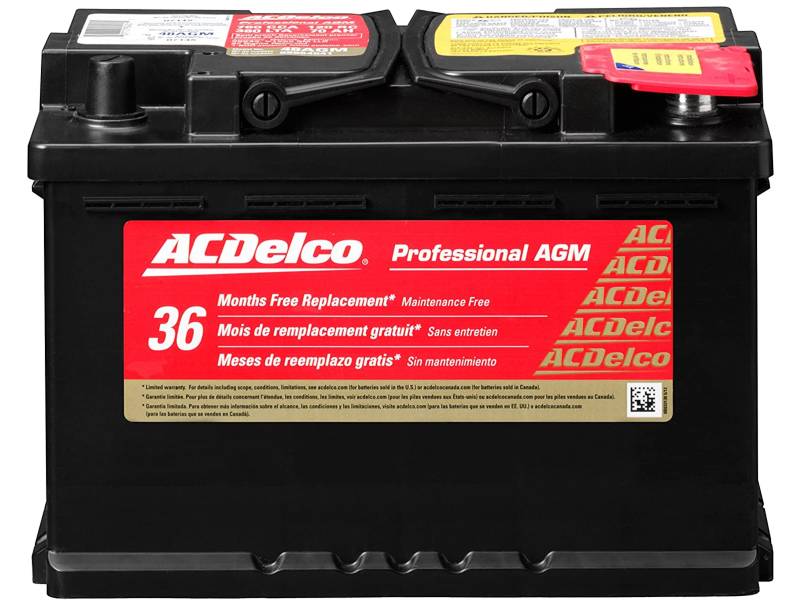 Features:
Dimensions: 11.9 x 7.5 x 7.6 inches
Weight: 45.5 pounds
AGM design
Voltage: 12V
CCA: 760 A
Capacity: 70 Ah
Reserve Capacity: 120 mins
Warranty: 36 months
ACDelco is well known for being General Motors Original Equipment parts brand with experience over a century. This ACDelco 48AGM H6 battery has high cycling capabilities and is impressive with the remarkably charge-receptive specification. This necessary feature in the H6 battery helps to perform start-stop applications. Besides that, the spill-proof AGM design ensures there will be no leakage issues. The electrolyte is held in the battery permanently instead of allowing it free flow within each cell. ACDelco 48 battery touts oxygen recombination and reassures maintenance-free performance.
Delphi BU9048 MaxStart Premium H6 Battery Group 48: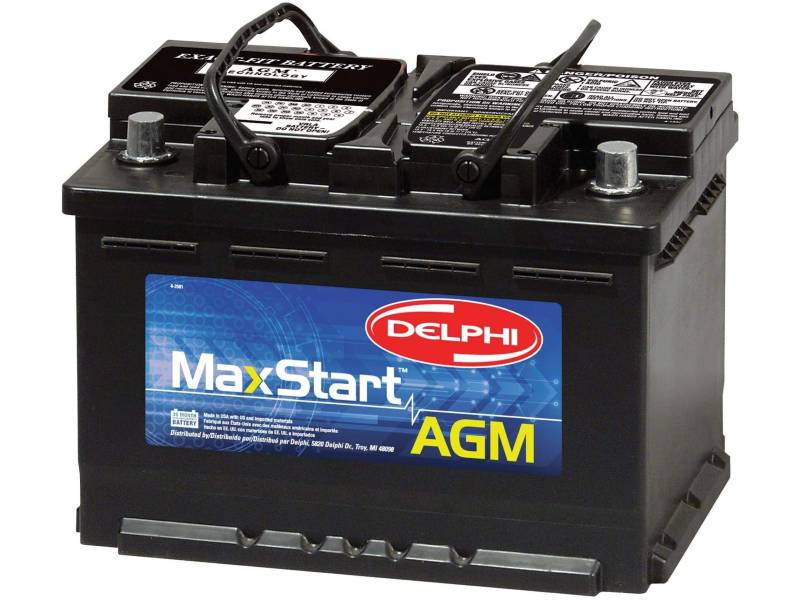 Features:
Dimensions: 11 x 7.6 x 7 inches
Weight: 41.4 pounds
AGM design
Voltage: 12V
CCA: 760 A
Capacity: 70 Ah
Reserve Capacity: 120 mins
Warranty: 36 months
Delphi Technologies has a battery for you for every need you come across. This Delphi BU9048 MaxStart H6 battery is a great value for the money you spend on a premium battery. Essentially, this group 48 battery brings you all the needed gestures for your electronic needs in your car. The brand claims the best in lasting the best of any tests. Similarly, this BU9048 AGM battery offers a better cycle life and faster recharging than any flooded batteries. Needless to say about the proven AGM technology, it brilliantly works the same way it does. The high CCA ensures quick starting capability and the extended RC powers all electronic accessories. Other specs like vibration and corrosion resistance impress you for this pick.
XS Power D4800 AGM Group 48 Battery H6: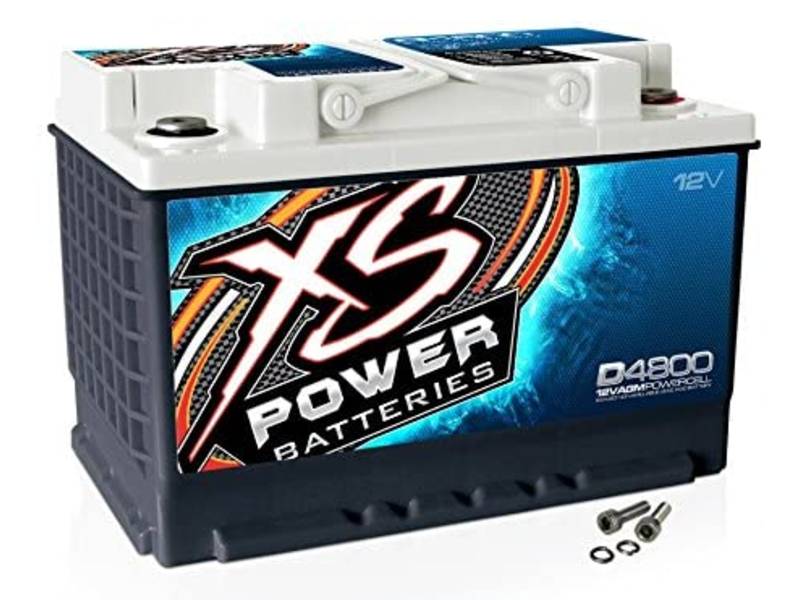 Features:
Dimensions: 11 x 7.5 x 6.8 inches
Weight: 48.2 pounds
AGM design
Voltage: 12V
CCA: 950 A
Capacity: 74 Ah
Reserve Capacity: 132 mins
Warranty: 36 months
This D series lineup from XS power marks some interesting things to note. The three models D4700, D4800, and D4900 in the D Series come with a direct fit for most European models. Possibly, these can be the best OEM replacements by providing power for starting duties and all electronic demands. The best part is, the XS Power D4800 group 48 battery units comes as a great buy for customized vehicles to serve power for extra electronics loaded. Name any luxury brand, XS power H6 battery comes with the best fit for it. The D4800 12-volt deep cycle battery supplies up to 3000 maximum amps of power and has a capacity of 74 amp-hours.
NORTHSTAR NSB-AGM48 Group 48/H6 Battery: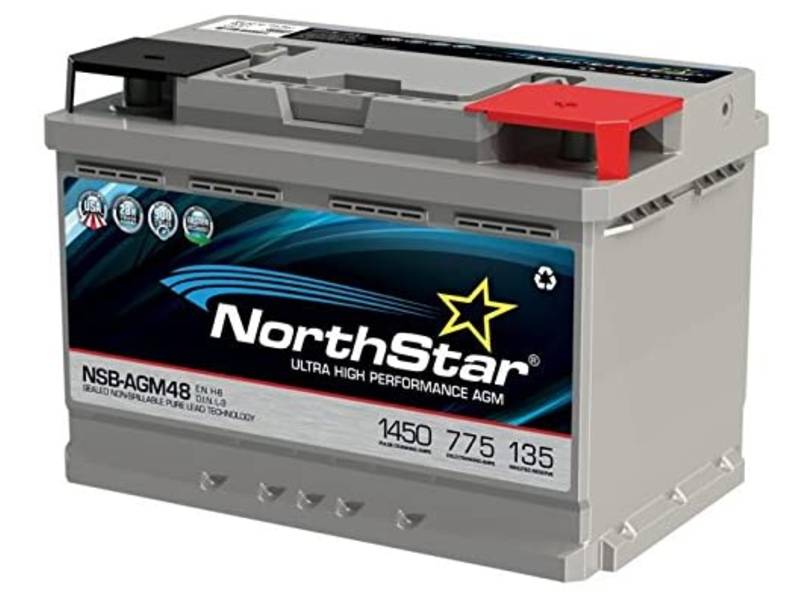 Features:
Dimensions: 10.91 x 6.87 x 7.42inches
Weight: 49 pounds
AGM design
Voltage: 12V
CCA: 775 A
Capacity: 67 Ah
Reserve Capacity: 135 mins
Warranty: 48 months
The in-state built Northstar batteries use pure lead acid and lead alloys with additives which increases the strength to withstand handling while making. The thinner and larger pure lead plated brings more surface area for active material reactions. Thus, the H6 battery results directly in great power delivery with superior cranking ability. There are other perks you get if you opt for this NORTHSTAR Group 48 Battery. Extreme deep cycle capabilities, high vibration resistance, and faster recharge are the essential needed ones.
On the other hand, you also get longer battery life and a huge cut down in the maintenance cost. Another important thing to mention is the AGM technology manages to slow down the corrosion and component aging. Even the battery case is made up of good quality plastic for a great performance, heat resistance, and durability.